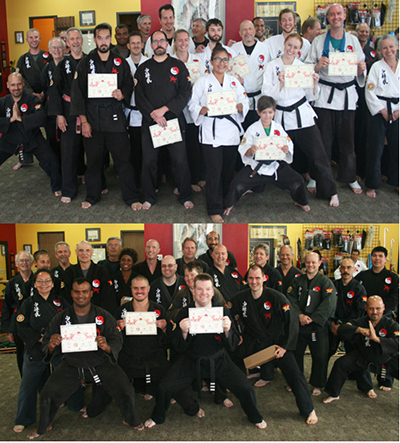 Facebook Reviews
John Blake — 5 star
8/6/2018
"You know when you really appreciate something and feel very blessed to have found such a great martial arts school?
Well, I feel that same feeling, and I am really happy to be attending Shaolin Kung Fu & Tai Chi Wooden Man.
The atmosphere of the place just brings about a sense of warmth and overall pleasantness.
The instructors are not only very knowledgeable, but also attentive,
they really care about your personal growth and advancement in Shaolin wushu and Tai Chi."
Dj-Emir Santana
— 5 star
8/2/2018
"The Shaolin School is like a close family of dedicated students and masters
all helping each other to better our lives,
health and understanding of martial art and self defense,
all while having a ton of fun."
Aleisha Rear
— 5 star
7/27/2018
"I personally enjoy this school! The work and effort you put in really pays off in time,
and the Masters are always there to help you out."
Melanie Carnahan
— 5 star
5/26/2018
"This is a sanctuary like no other I have ever been to. I have been a student here for nearly 10 years,
and have learned more than just punching and kicking, and more than just meditation and T'ai chi...
This school has an Abundance of knowledge, skill, and fortitude, as well as teachers and students who are welcoming and helpful.
Being a new student was intimidating for me at first, but even a shy person like me, was able to find a way to ease into it, and I have enjoyed it ever since!!!
There is an abundance to learn here!!! I Still have not learned all there is to know in this art, and I look forward to learning more!!!
I'm so excited because there is never a boring day in my life!!! Any time I start feeling bored, I simply start thinking of different forms and fun things to work on...
and the boredom is beat!!! Its some REAL Kung Fu Fun!!! I love this school, and recommend it Everyone!!! I couldn't have found a better school. I am So grateful!!!"