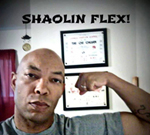 Perry Miles
"It was April 19th 2013 when I walked into the Chinese Shao-lin Center in Salt Lake City for the first time. Tomorrow I stand before a panel consisting of black belts, my Sifu, Masters and our Elder Master to demonstrate that I have acquired the martial skill to advance to the 1st degree black belt level.
I can honestly say that I haven't had this particular blend of emotions since I took my final PT test in Basic Training. But you know what, I have never been more prepared for anything in my life!!! Its hard to find a more passionate, dedicated and supportive group of people in this day and time than the ones I have met in Shao-lin. I have been supported and encouraged every step of the way and I would not be where I am now had it not been for them. Because of them, my fellow Shao-lin martial artist, I have an indescribable love for the Art of Shao-lin.
And even after all this time...my journey begins tomorrow!"