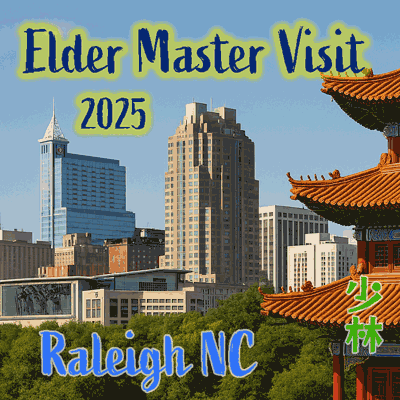 August Greetings Shao-Lin Students,
As we near the end of the summer of 2020, we are continuing to enjoy all of the outdoor training over the Lower, Brown & Black Belt weapons.
Our Tai Chi & Lower Belt students are back into their training as well, BOTH OnLine and at the School.
For the Brown Belts, we are reviewing the Golden Mountain Tiger & Sea Dragon Cane, Southern Single-ended Waxwood Staff and Kwan Tao. And beginning the Fast & Explosive Single 8-Directional Broadsword.
And our Black Belts are reviewing their Classical PaKua & 2-Person Set, 1st Shantung Black Tiger, and Northern Tan Tui, and Southern Spears - Mei Hua Chiang (Plum Blossom Spear) & Yang Chia Chiang (Yang Family Spear).
And we are beginning this month, the Tornado Broadswords.
And we have just received a shipment of broadswords from our suppliers.
We are just Beginning this month, the Famous PaKua Spear, on Saturdays @ 9am for 8 weeks. August and September 2020.
And for ALL Levels, the 2-Person Double-ended Staff Weapon Fighting Set Festival will be taught on Saturday, August 22nd @ 10am.
And also Black Belts have their end-of-summer PreTest on Sunday August 9th @ 8am and the Brown Belt Test follows at 12noon.
And following the Testing, we will be offering for the FIRST Time EVER, the Famous Monk Spade, on Sunday August 9th @ 2pm.
From the Classic Chinese Novel from China's 12th Century - Song Dynasty The Story of Lu Da - One of the Famous Outlaws of the Marsh.
Sagacious Lu with his Monk Spade and the Battle of Twin Dragon Peak
You can always renew/update your membership online, coming into the school, or mailing in your payment.
We hope everyone is enjoying and benefiting from the FaceBook OnLine "Shao-Lin" Zen Forest Groups, for all levels.
Feel free to go to the website and "Sign-Up" for any upcoming classes/seminars.
If you do have any questions, regarding any of the above, please FB message me.
David Soard – FaceBook https://www.facebook.com/davidsoard
Please FB message us, if you are in need of, or interested in a Private Lesson, whether for polish & review, of "new" instruction.
We are beginning to schedule lessons now.
Wishing all of you Health, Happiness and Longevity.
Zai Jian,
David and Sharon
8th degree Senior ElderMasters
Co-Owners/Instructors
Chinese Shao-Lin Center- Kung Fu / Tai Chi / Wooden Man
(Est. 1979)
800.Shaolin
www.Goshaolin.com
www.Shao-Lin.com

9 Shao-Lin "Zen Forest" Groups
(Please click below on the "Group" you're interested in joining)
Shao-Lin Zen Forest Lower Belt / Tai Chi Group
Shao-Lin Zen Forest Wooden Man / Iron Monk Group
Shao-Lin Zen Forest Wooden Man Part XII+ Group
Shao-Lin Zen Forest Brown Belt Group
Shao-Lin Zen Forest Black Belt Group
Shao-Lin Zen Forest 7 Star Sword Group
Shao-Lin Zen Forest Dragon Meditation Group
Shao-Lin Zen Forest Beggar Bowl and Stick Group
Shao-Lin Zen Forest 3rd Road of Hua Mountain Group